MRI Wheelchairs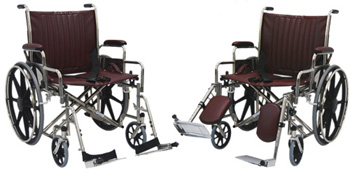 MRI wheelchairs for the MR environment are non-magnetic and safe for use in your MR room. Ocelco has the non-ferrous MRI wheelchair for you. Our line offers sizes from 18" to 26" wide, with the option of footrests or legrests. Ocelco also has a complete line of MRI wheelchair accessories that are safe for your MR environment, including IV Poles, Oxygen Holders, Anti-Tippers, and Anti-Theft Bars. Along with our complete line of MRI wheelchairs we also offer a complete line of replacement parts. Need help or more information please feel free to call and one of our friendly customer service representatives will be happy to assist you.
Browse these categories under "MRI Wheelchairs"
---
Featured products under "MRI Wheelchairs"