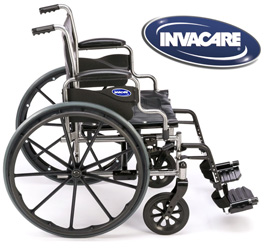 Invacare Tracer EX2 wheelchairs
set the benchmark in manual wheelchairs. A true dual axle position allows for repositioning the 24" rear wheels and 8" casters for adult and hemi seat-to-floor heights. Offset permanent arms offer full seat width up to 20" with a permanent arm, hemi-spaced footrest and full range of accessories. Incorporating the design and technology of the Invacare 9000 series, the Tracer EX2 manual wheelchair has interchangeable components with the 9000 series chairs.
The Invacare Tracer EX2 wheelchair also features dual axle positions that allow for repositioning the 24" rear wheels and 8" casters to a variation of seat-to-floor-heights. The urethane rear tires are mounted on "no flex" wheels for a smooth ride, and give you a great deal of control and maneuverability. A carbon steel reinforced frame and inner liners keep the dual embossed vinyl seat and back from stretching, providing the patient with a superior level of comfort at all times. Browse through our line of Invacare wheelchairs for sale below.